News
News Title: The website www.minitruck.com.tw is published. - Electric mini trucks :
2019/02/25
Our new products - Electric mini trucks/Electric light lorryies (average cargo load is under 500kgs) is ready to receive orders from public. We define this kind cargo vehicle is as follow:
1. Slow moving vehicle.
2. Speed from 12 km/hr to 28km/hr.(7.5 miles/hour to 17.5 miles/hour).
3. Cargo load in 4 sizes: 200 kgs (small), 350 kgs(medium), 500 kgs(large) and tailored made(below 800 kgs).
4. With Canopy for sun shade.
5. The electric ligh lorryies is powered by DC motor and LiFePO4 battery set.
6. These cargo vehicles are eco friendly, zero pollution, emission free.
7. Please vist the site https://www.minitruck.com.tw/EN/index.html

New website www.minitruck.com.tw is published for Electric Mini Trucks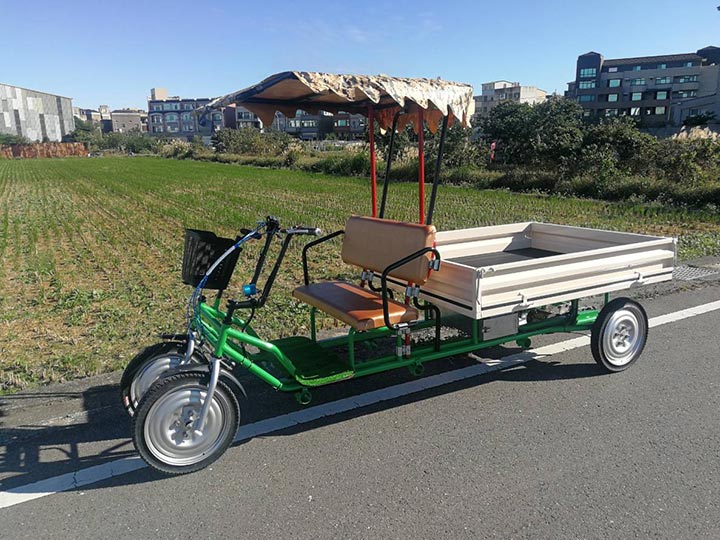 News Title: FAQ about SIFONCO Surrey Quadcycles -Frequently Asked Questions :
2018/10/04
For answering questions for most visitors to our website, herebelow you might like to know:

The electric surrey bike is a 1 horse power quadricycle, we utilized a twist trottle to gear up the DC motor. And the fuel of DC motor was completely come from LiFePO4 battery set. Can you imagine a Slow Moving Vehicle could carry 4 person at a time? This vehicle is an eco friendly, zero emission, pollution free quadricycle. Most parts are from bicycle parts, it is easy for anyone to find a bike shop if necessary.
The specification for sifonco surrey quadricycle is as follow:
Motor: 800W DC motor.(1 horse power = 746 Watt)
Battery: LiFePO4 battery set 24V60AH, battery cell 26650.
Control Unit: 24V
Charger: 5A, 120V or 240V
Charging time: 6 hours.
Speed: 12km/hr to 18km/hr (7 to 11 Miles per hour)
Distance: 60km to 80km (might varies up to carry and terrain)
Usage time: 5 to 6 hours.
If you want to double up the traveling distance, simply add a "Solar panel" on the canopy. Sure! It works!

Frequently Asked Questions for Surrey Quadcycles, FAQ for Surrey Bikes: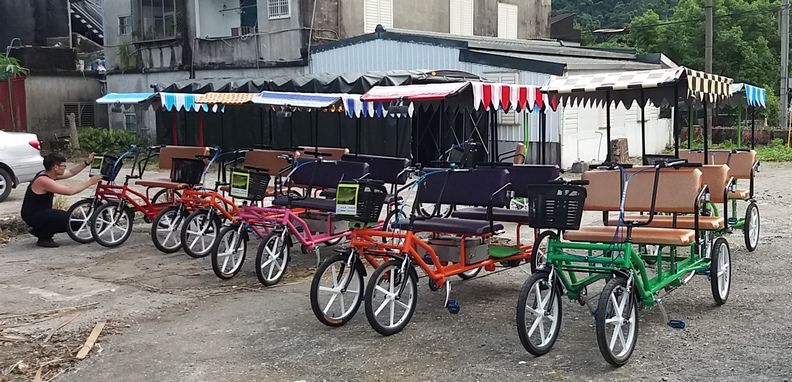 News Title: Aluminum alloy wheels available for Surrey Bikes.
2018/06/04
Kindly be noted that from June of 2018, all our surrey bikes (no matter electric or human paddle bikes) will be upgrade to aluminum alloy wheels.
Alluminum alloy wheels for Surrey Bikes: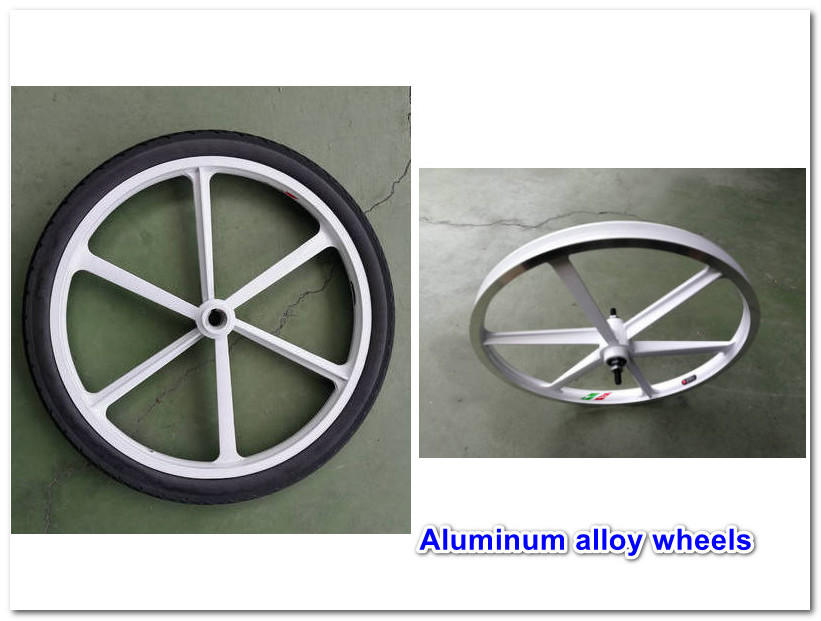 News Title: Surrey bike with Solar Panel, Made in Taiwan,
2018/04/23
We are glad to publish "Surrey Bike with Solar Panel", the vehicle can be used all day long if it is sunny day!
This possibley could be the first step for "Slow moving vehicle" be a participate of Sustainable Transport. (Continuously work more than 8 hours in the day time!)
Another important point is "Solar power electric surrey bikes" are eco-friendly.
Surrey Bike with Solar Panel, photos are below: