Product: Family Electric Motor Surrey Bike
Model No.: ETC-220
Assembled Size: 212 * 97 * H172 CM
Family Electric Motor Surrey Bike Picture: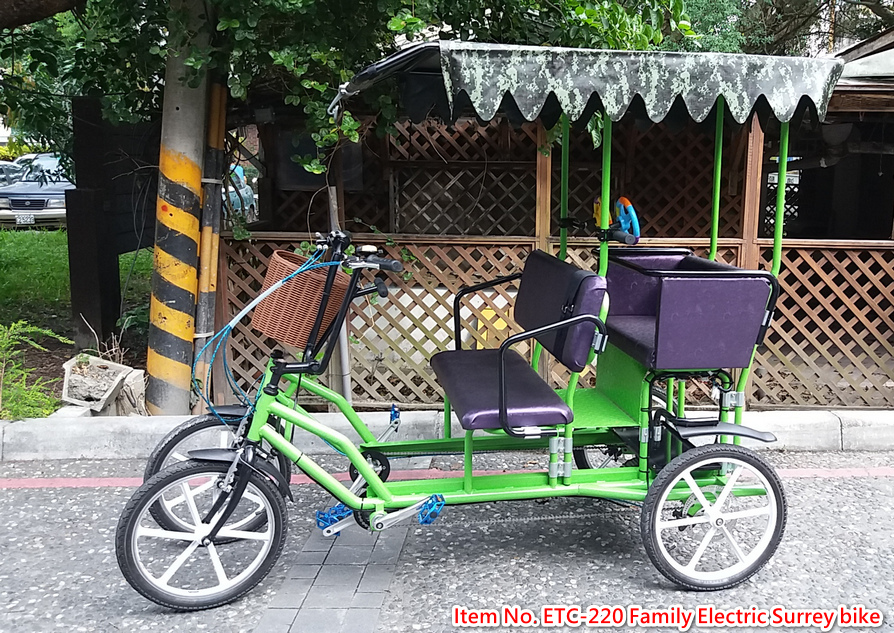 Family Electric Surrey Bike Quadricycle
Product Description:
This electric motor vehicle is just fit for 2 adults and 2 kids. For kid's entering the quadricycle,the assistance is required. The distance is near between adults and kids. And the seat for kids is a little higher than adult's.
¿A Dónde Vamos? Papá
Note: This "Family Electric Surrey Bicycle" can be also called as "Electric Motor Sociable Bike for family", "Electric Motor Buddy Bike for family", "Electric Motor Sightseeing Surrey Bike for family".
Poetry "Family and Surrey" By Stephen Chen, 2018/03/25

Deserving to import a surrey for my family?
Before the plan started,
I already hear kids' laughing.
I already see mommy's smiling and daddy's nodding.
What a pleasant mood to receive birds merrily sing!
To feel the breeze, no matter in warm or in cool!
Smell lightly, whatever it is salty or floral fragrance!
Is surrey ride as easy as a piece of cake?
Yes, Surrey.